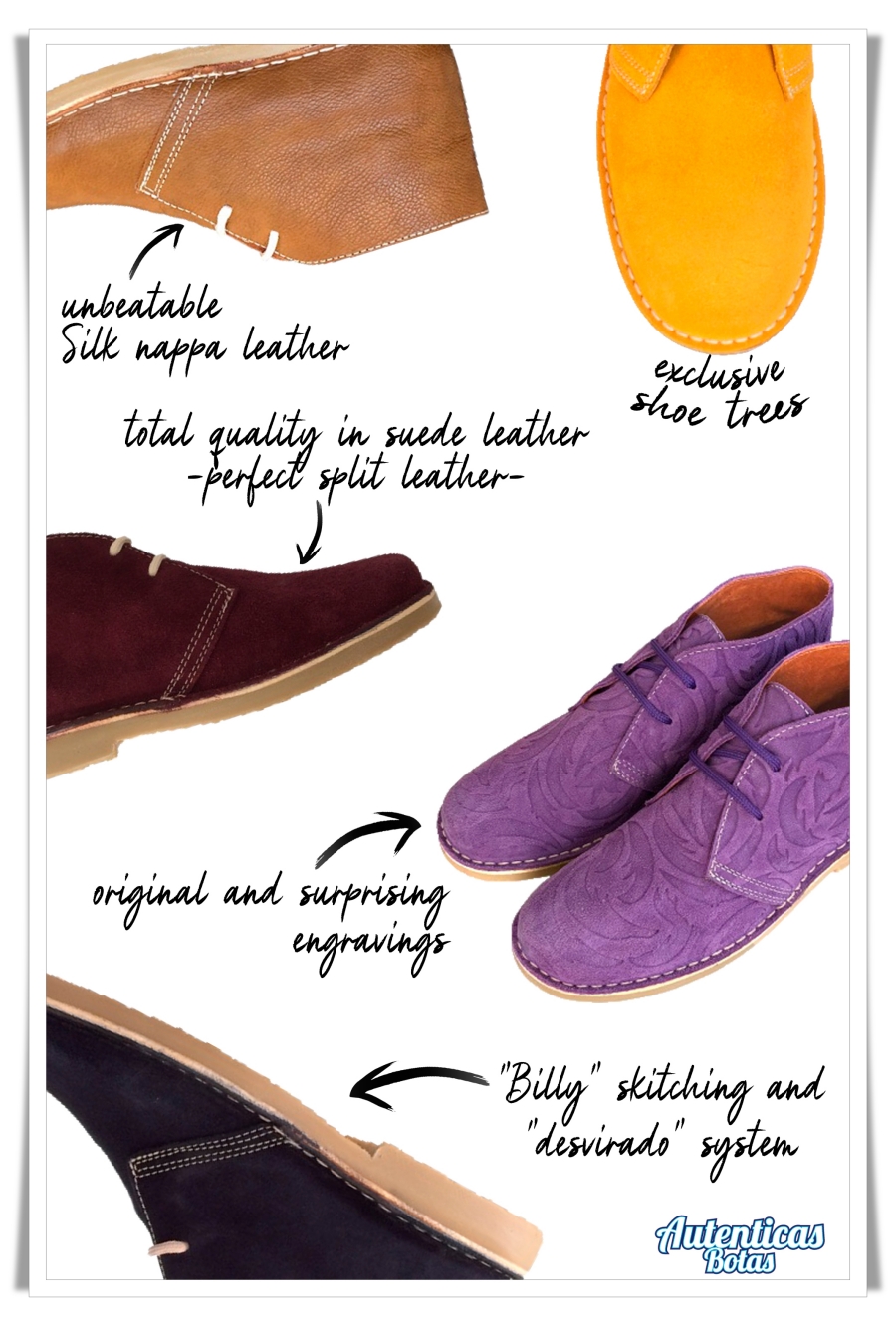 Why our desert boots?
In Autenticasbotas we only work with quality. We could make desert boots cheaper by changing various details, but it's not what you want. You have found this website and you have entered to look for ones that you cannot find in other sites. And that is just what we offer: a quality of materials and manufacturing that makes them unique. There are similar ones, of course, but they aren't the ones from Autenticasbotas.
The first thing we offer you is the best suede leather. The company that supplies it is one of the main tanneries in the country. It's more expensive but you can tell the difference, a lot. The thickness used in all split leather models is 1.6 - 1.8 mm, which is the perfect balance between softness and durability. The softness almost "feels" just by looking at the photos, and the duration ... check it when you have them and you'll like them much more.
The plush of the split leather, which is "the little hair" that the boot has on the outside, is perfect: uniform and homogeneous, without peeling or scraping... nothing. It is more expensive but it is very noticeable, don't you think? Good leathers offer more comfort and well-being to the natural movements of the foot.
The nappa leathers we use are Silk nappa: soft and full-bodied, durable and highly resistant to scratches. It's a type of leather that is very grateful for cleaning, as it's very easy to maintain.
These are also different because of the sole they have. You will have noticed that it is a sole with slightly rough edges, not with a completely smooth finish. That's because it's sanded down once it's attached to the rest of the boot. Hence the sander marks. It is a sample of the great manual manufacturing process that we use. These soles are the authentic ones, not prefabricated that are very smooth and shiny on the sides. These are soles made of thermoplastic rubber to withstand what you demand.
And of course, the lasts that we use in Autenticasbotas. Following the customs of manufacturers who have been manufacturing this type of footwear all their lives, we have kept the "usual" lasts without getting carried away by trends in toecap shapes or widths. The boots that we offer you have been manufactured with traditional lasts. Because we innovate in colours, materials and R+D, but without breaking with the past. If you want authentic desert boots, think no more.